Oil steadies near two-month high as U.S. drilling slows down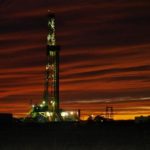 Oil steadied near a two-month high in New York amid a pullback in U.S. drilling activity, while ongoing U.S.-China trade talks left an uncertain outlook for demand.
Futures rose 0.2% Monday after surging 3.3% on Friday. According to Baker Hughes data, the number of rigs drilling for oil in the U.S. fell to the lowest since May. China and America, the world's biggest oil consumers, have made little progress in talks on intellectual property. It is a major sticking point as they pursue a deal to end a tariff battle.
"The price volatility seen over the latter part of last year certainly appears to have made producers hesitant to pick up drilling activity,"

said Warren Patterson, senior commodities strategist at ING Bank NV.
Read how China's trade truce affected oil prices
A good start for 2019
Oil is off to its best start to a year since 2001 after plunging almost 40% last quarter on fears of a global supply glut and weaker consumption. To counter those worries, OPEC and its partners have started to cut production to balance the market while the International Energy Agency expects relatively strong demand this year. Still, concerns persist after China's economy expanded at the slowest annual pace since 1990.
West Texas Intermediate crude for February was at $53.90/bbl on the New York Mercantile Exchange when trading halted. U.S. markets were closed for the Martin Luther King holiday, and contracts will only be settled on Tuesday.
Brent for March settlement closed 4 cents higher at $62.74/bbl on the London-based ICE Futures Europe exchange. This is after advancing $1.52 on Friday.
The U.S. rig count tumbled by 21 to 852, the biggest decline since 2016. Even so, Energy Information Administration data last week showed American drillers pumped 11.9 MMbopd. U.S. output is set to expand by 1.1 MMbopd this year. It may exceed Saudi Arabia's maximum level within the next six months, according to the IEA.
The pullback in drilling "is not expected to significantly slow down U.S. crude production growth,"

analysts at consultants JBC Energy GmbH in Vienna said in a report.

News Source: Link
The post Oil steadies near two-month high as U.S. drilling slows down appeared first on Opus Kinetic.